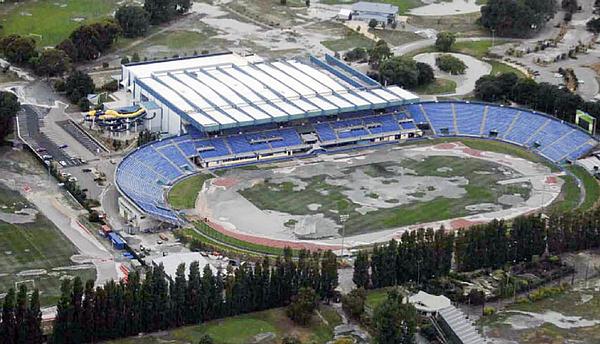 Devastation at QEII, following the Christchurch Earthquake in February 2011.
QEII stadium had been the home base of Athletics Canterbury, since 1973, having been built in time for the Commonwealth Games to be held there the following year. However, during the earthquake on 22nd February 2011, it was badly damaged and left the Canterbury athletics community without quality training facilities. Liquefaction covered the track and parts of it had been torn up altogether. The whole complex was red stickered and eventually demolished in 2012. It was the end of an era and a new one was about to begin.
It would be 7 years in the making but a new, international athletics track was completed in 2018, as part of the Ngā Puna Wai Sports Hub. Huge credit goes to the Athletics Canterbury organising committee for many years of investigating, advising, liaising, and planning, to bring the track and field component of the project to fruition. In the meantime, our local athletes had to run, jump and throw on grass at Rawhiti Domain. It was hardly ideal— a massive step down from QEII (where Dick Tayler won that 1974 gold medal in the 10,000m and became a household name). It is a testament to our athletes' resilience that they managed to remain active and competitive throughout the lengthy rebuild process.
Today, Ngā Puna Wai offers a great opportunity for athletes of all ages to run, jump, throw during training, all year round, or at competitive meets throughout the summer season.