Hi All,
It's been a while since my last report.  From where I live, I look down on paddocks that have turned into lakes.  I'm not a great fan of wet / cold weather as it does get in the way of training ... well, it would if was able to trainwithout injuries.  Hopefully you have been able to keep warm and dry.  Within the CMA ranks, there are many who are heavily involved in the Athletics Canterbury committees and the organising the events.  There are two important Athletics Canterbury AGM'scoming up in July, which you welcome to attend.
Athletics Canterbury AGM:
This is occuring on Wednesday 3rd July at 7:30 p.m. @ the Cashmere Club.  Kevin Jago is the President of Athletics Canterbury.
Athletics Canterbury Track & Field Committee AGM:
This is occuring on Wednesday 10th July at 7:30 p.m. @ the Cashmere Club.
Winter Throws Pentathlon:
A monthly Throws Pentathlon has been introduced this winter, organised by Bev Church.  It is scheduled to occur on the first Sunday on each month (weather permitting), held at Rawhiti Domain starting at 10:00 a.m.  For more information, pleasecontact Bev on 388 5736.  I look forward to hearing about these events.
Member's News:
If you have an event you would like to share with your CMA members, please let me know. The most recent one I know about was Bryan and Patricia Kerr's 60th wedding anniversary this week.  Well done to you both. 
This photo was sent to me by Lois Anderson, which I hope Lois, Bryan and Pat don't mind me showing here.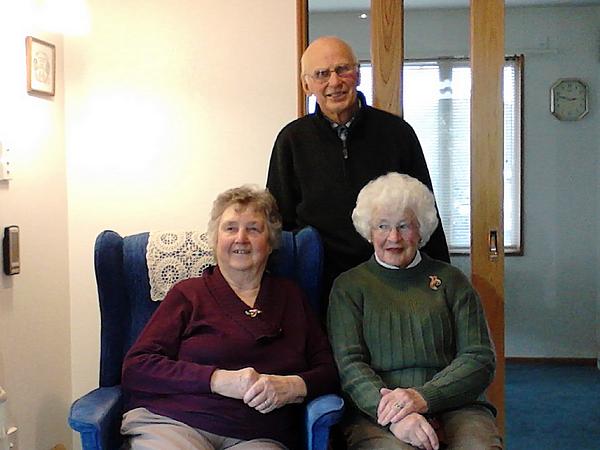 CMA AGM:
Advance notice about our AGM, to be held in the Port Hills Clubrooms on Wednesday 21st August @ 7:30 p.m.
South Island Track & Field Championships - November 29th - December 1st 2013:
We are organising this event and your help will be needed.  Click here is see the draftprogramme.
Oceania Masters Track & Field Championships - Bendigo 2014:
If you want to know more about this event, click on the link below.  You can register your interest now and receive information e-mails.  Registrations close on 24th November 2013.
http://www.omabendigo2014.com.au/index.php
Finally, for those competing in the up-coming cross country races, good luck.
Kind regards,
Andrew Stark