Hi all,
The days are getting shorter and the nights are getting colder ... another track & field season has been and gone.  We have had our annual CMA Dinner held at the Cashmere Club.  Thank you to those who helped organise or attended thisevent.  As mentioned on the night, many of our trophy winners were by default due to the fewer competitors these days.  While this does not take anything away from those winners, we also used this night to celebrate the successes of other CMA members.  The annualCant-A-Long magazine was given out and this week I will be sending copies to those who were not at the dinner.  In this issue you will find results for all CMA members who competed this season and a list of those who broke various records.  Well done to you all.
Nick Bolton, Rick Davison, Chris Mardon, Louise Martin, Brian Senior and I went across to the Australian Masters Track & Feild Championships, held in Adelaide (16th - 19th April).  There were 669 competitors, which is thelargest number of entries they have had for some time.  Click here to view a full list of results and to see photos for this meeting.  These results are notin Cant-A-Long.
Just a reminder of What's On, Where & When.....
Winter Throws Pentathlon Series:
If throwers are interested in participating in a series of events over the winter months, please contact Bev Church (383 5448).
Cross Country & Road Season:
When you join a club you will be given an Athletics Canterbury Winter Season Booklet.  However, if you are interested in knowing what's on & when, you can download a copy  here.
CMA AGM - Wednesday 17th August 2016 @ 7:30 p.m. Port Hills Clubrooms:
The President's report for the previous year is in this issue of Cant-A-Long.  In my report I have requested more assistance from members with organising CMA events, therefore sharing the load.  I have alreadyapproached a few people who are willing to help, but I do need a few more.  If you are interested, please let me know.
NZMA / Athletics NZ 'Sharing of Membership' MoU:
The NZMA Board are still working through this exercise.  As a result of what happend at the NZMA AGM, a Special AGM will be required to pass a remit to accept the MoU.  This is planned to occur during the weekend ofthe ANZ National Cross-Country Championships, to be held in Auckland during the first weekend in August.   More details about that later.
Bryan Kerr Funeral:
It is with great sadness that I mention the death of Bryan Kerr.  He was a mentor to many and always greatly assisted those who became involved in the athletics as administrators ... rest inpeace.
Bryan's funeral is to be held at the Lamb & Hayward's Chapel, 467 Wairakei Road, Christchurch @ 10:00 a.m. this Friday 29th April 2016.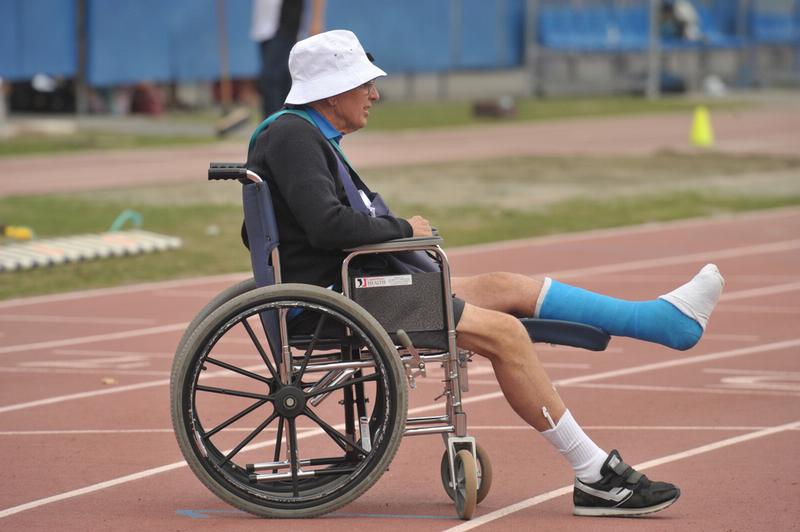 This photo was taken at the NZMA 2010 Championships.  Despite having an ankle operation, Bryan was a major organiser of this event.
Regards,
Andrew Stark